This blog post is a Constance Ephelia Resort review where I will share my personal experience in the beautiful resort in Mahe Island, Seychelles.
During my dreamy vacation in Seychelles, I stayed for six days at the beautiful Constance Ephelia Resort.
Today, I am going to share my Constance Ephelia Resort review and what to expect, if you are visiting the Constance Ephelia Resort in Mahe.
So if you are thinking of booking your stay in Constance Ephelia, keep reading!
Affiliate links may be used in this post. I may receive a small commission at no extra cost to you if you use my affiliate link. Read my disclaimer.
Important Information About The Constance Ephelia Hotel
The Constance Ephelia resort is located in Mahe Island in Seychelles. It is a 5-star beach resort, located in the northern side of the island.
The resort offers a breakfast only option, half-board, and full-board.
We chose the half-board option because we thought it will be nice to spoil ourselves a little bit and at the time it was a cheaper option than buying the meals in the restaurants.
In the resort you can find two beautiful beaches (these are some of the prettiest beaches in Mahe Island), 5 pools, 5 restaurants, and a few beach bars as well.
The resort is huge, and is separated into two parts – the very fancy suites and villas (on the hill), and the main area of the resort with more suites and the basic rooms, the beaches, pools, and restaurants.
Because the resort is honestly huge, to get to places in the resort you use a "buggie" (golf cart) service that the resort offers for free.
Every time you want to go somewhere from your room that isn't close to you, you call the reception and they send a buggie to pick you up.
It's very nice, and the drivers are super friendly too!
If you want to try some of the highly rated tours in Seychelles, that are so popular they are likely to sell out , here are a few I recommend: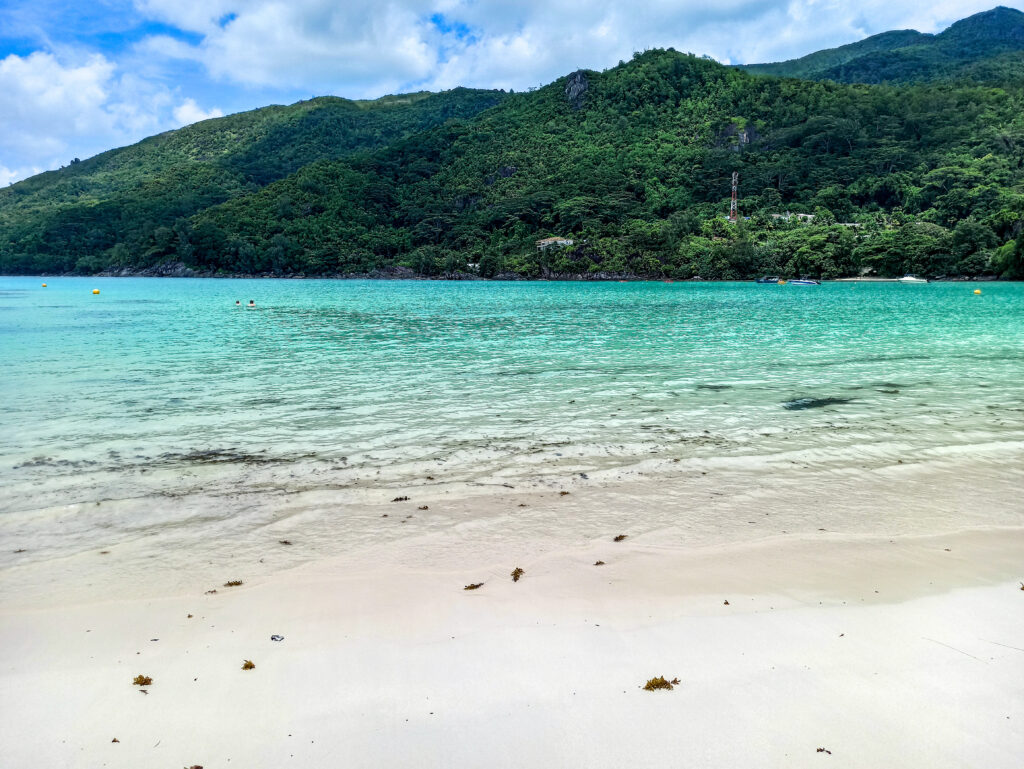 Constance Ephelia Restaurants:
The Constance Ephelia Resort offers 6 restaurants that you can choose from.
As a half-board/full-board, you can eat at those restaurants for free!
Constance Ephelia Resort Review of The Restaurants:
Corossol – a delicious buffet. This is where you eat breakfast every morning. You also have the option to eat there dinner as well. I highly recommend this buffet!!
Helios – Middle Eastern restaurant. I recommend trying the walnut pasta it's amazing!!!
Â
Adam & Eve – an Asian restaurant. I had there one of the best meals during the vacation – Pad Capau and also the Coconut Taboo (the best dessert you'll ever try).
Cyann – a delicious sushi restaurant. This restaurant isn't included in the half-board stay.
Seselwa – one of the best local food restaurants in Mahe! They mainly offer sea food and fish.
Kabana – a beach restaurant to eat lunch at.
There are also 5 bars that offer snacks, desserts, and drinks:
Helios Bar
Adam & Eve Bar
Cyann Bar
Seselwa Bat
Zee Bar
Things To Do In The Resort:
The Constance Ephelia Resort is luxurious experience of it's own.
Here are some of the things you can do when you made a Constance Ephelia Booking:
Visit the spa
Kids babysitting service
Huge turtles section – you can come feed them every day at 16:00 pm
Rent (for free) kayaks at the beach
Shop at the boutique shops in the resort
Zipline – a family friendly zipline. Costs around 60 Euros per person!
By the way, if you want to look super glamorous on your getaway :
The Rooms
There are a few types of rooms you can stay at in a wide price range. We stayed at the Junior Suite, and it was amazing!
Tropical Garden View Room – the smallest (and most affordable) room in the resort.
Constance Ephelia Junior Suite
The Constance Junior Suite is the suite we stayed at and it was definitely amazing. There is a big bed, luxurious bathtub, and it's a one minute walk away from the beach! The Constance Ephelia Seychelles Junior Suite was worth every penny, in my opinion!
Constance Ephelia Senior Suite
Senior Suite – a luxurious suite. Big room, lots of space, perfect for couples.
One Bedroom Beach Villa – the beach villas are a one-bedoom beachfront villas that offers a king-size bed, an ensuite bathroom with a shower. The beach is right outside, but there's also a private pool just for you!
Two-Bedroom Family Villa – these villas have two bedrooms, with room for four adults and a child. Each villa has a private pool and a dining pergola. There's also an alfresco hot tub and a shower on the poolside terrace. Inside, there's a lounge area as well.
One-Bedroom Hillside Villa – from these villas you have a beautiful view of the Port Maunay Maine park beach, which is one of the prettiest beaches in Mahe (and maybe in Seychelles in general).
The villa offers a beautiful infinity pool and a view of the Port Maunay beach. Inside, there's a living room and a king-size bed inside the beautiful bedroom.
Three-Bedroom Family Villa – these villas have three bedrooms, which is perfect for six guests. Each villa has a private pool and a dining pergola.
Two-Bedroom Beach Villa – these beachfront villas have two bedrooms, each includes a comfortable king-size bed and an ensuite bedroom with a walk-in shower. The beach is literarly outside your door, and there is also a beautiful private pool!
Two-Bedroom Hillside Villa – the most expensive room in the resort. The hillside villa offers a breathaking view of the Port Maunay beach, as well as an infinity pool and a beautiful ocean view.
The villa has a living room and two bedrooms with a king-size bed and an ensuite bathroom with a shower.
FAQS on The Constance Ephelia
What's Included in Constance Ephelia Half Board?
If you are booked The Constance Ephelia half board, the meal plan includes breakfast and dinner. Breakfast is available in the buffet restaurant Corossol from 7am until 10:30am each day. In addition to this, there are dinner options available are the buffet restaurant Corossol, every evening from 18:30 until 22:30 with no supplement charge on the food. You will only be charged for beverages consumed.
At the Constance Ephelia Mediterranean restaurant, Helios, there are a few select nights where you will be charged for food.
At Adam & Eve their Asian Cuisine restaurant, they have an la carte and set menu on certain nights where you wont be charge for food. Seselwa. their Creole themed restaurant, will only charge you extra for lobster menu options.
Finally, their Fine Dining restaurant Cyann is not included in the half board option, however there is an allowance against the a la carte menu choices or an extra charge for the set menu.
Is is important to note that, all the restaurants will charge you extra for beverages consumed at dinner.
A wonderful things to note is, all of their restaurants are child friendly and they have kid-friendly food options on their menus.
Many families prefer to choose the restaurant that is nearest their suite or villa , however all the restaurants are available to be booked for all guest ages 🙂
Constance Ephelia Full Board
If you are wondering which restaurants you can dine in, with Constance Ephelia Full Board, the meal entitlements are:
Breakfast At Constance Seychelles:
Early morning light continental breakfast is served from 4:30am and full breakfast starts at 7:00am, all at Corossol restaurant, their main buffet restaurant.
Lunch at Constance Hotel Seychelles
Cyann: Full Board guests are entitled to 2 course menu. Selected items have an extra charge (Appetizer & *Main Course) or(Appetizer & Dessert) or(*Main Course & Dessert)
Adam & Eve: Full board guests are entitled a 3 course menu. Additional courses will be charged on your account. *Full board guests pay extra on selected dishes.
Helios: Beach menu and buffet included
Seselwa: 3 – course Lunch or Sharing Menu
Kabana: Included
Dinner at Constance Ephelia Restaurants
Cyann: Signature Set Menu: To add Scr 300 per person, Ala Carte: With Credit of Scr 400 per person
Adam & Eve: 3 – course Dinner, additional courses subject to charge
Helios: Buffet Included & Set Menu included
Corossol: Buffet Included
Seselwa: Buffet Included & Set Menu included, Lobster Night: To add SCR 950 per person, Kreol Fietsa SCR 490 per person
All drinks have additional charges with complimentary water delivered to the rooms each day and available at the pool and beach areas.
Constance Ephelia Drinks Prices
Beers and soft drinks are expensive but this is a common practice for 5 star hotels in Seychelles. A can of coke or fanta starts at 55 Rs, a beer is around 90 Rs (Seybrew), a passion fruit juice also 90 Rs while a glass of wine vary between 130 Rs and 300 Rs. You can find a shop just outside Ephelia if you want to keep your costs at a reasonable level.
Constance Ephelia Menu Prices:
There are several restaurants at Ephelia:
Adam and Eve: Chinese menu at the pool. Around 40euro for 2 excluding drinks
Helios: burgers and pizzas at the pool. Around 35 euro for 2 excluding drinks
Cyann: Sushi for lunch and a la carte for dinner. +40 euro a person.
So, on average you'll pay around 40 euro for 2 without alcohol
F&B in Seychelles is generally very expensive but there aren't many options apart from Ephelia.
However, there is a restaurant down the road: Delplace. It's run by a French man but with local cuisine and it's good value for money + lovely setting.
My Experience at The Constance Ephelia Seychelles Resort
I'm being 100% honest, the Constance Ephelia Resort is definitely the best resort (and hotel) I've ever been to and this is one of the few Constance Ephelia Seychelles Reviews which hasn't been sponsored .
The staff are so nice and very kind people, if there were 7-starts hotels, this resort would definitely be one of them.
If you want a spoiling, relaxing vacation in Seychelles, I highly recommend the Constance Ephelia Resort, Mahe Island, in Seychelles.
The resort's beaches are a part of the prettiest beaches in Mahe (and in Seychelles in general), the pools are amazing, the food is delicious, and the whole service in the hotel is honestly amazing.
I loved our room (the Junior Suite), the food at the restaurants, the beautiful beaches, and the whole experience.
Also, I highly recommend doing some snorkeling sessions in the Port Maunay Marine Park beach! You will find there some beautiful fish and sea life.
Don't forget to bring a GoPro camera with you to capture the beautiful sightseeing in the water!
MORE SEYCHELLES CONTENT: