BEST THINGS TO DO IN SEYCHELLES
Today, I am going to share with you the best things to do in Seychelles! If you don't follow me on Instagram, you probably don't know that I spent the last two weeks of my life in the magical islands of Seychelles!
I can't believe I am writing this blog post, because I never imagened to visit the Seychelles in the near future (and especially not in 2020).
Before Covid, flights from Tel Aviv to Mahe (Seychelles) were around $1000 a ticket.
And it's not just the flight, hotels were super expensive as well (and the living cost and transportation in Seychelles isn't on the cheaper side either).
So I never imagined I would be financaly able to visit the Seychelles in such a young age.
But, sh*t happens, Covid happened, and I think I can thank Covid for that (and only that).
Now, enough talking, here are the best things to do in Seychelles!
Affiliate links may be used in this post. I may receive a small commission at no extra cost to you if you use my affiliate link. Read my disclaimer.
If you want to try some of the highly rated tours in Seychelles, that are so popular they are likely to sell out , here are a few I recommend:
1. Relax at a Fancy Resort
A big part of traveling the Seychelles are the fancy beach resorts. A lot of them offer full/half board, delicious meals, beautiful beaches and relaxing pools.
Me and my boyfriend stayed at the Seychelles for 11 days, and splited our visit between the Constance Ephelia Hotel and a different hotel in Anse Royale.
The Constance Ephelia Hotel was one of the best hotels I stayed at in my entire life. Also, their prices aren't too bad for a 5-stars beach resort.
But stay tuned for a full review of the hotel!
Anyways, relaxing on the beautiful beaches or in the pool of your resort is also a fun, relaxing experience that is highly recommended.
2. Visit Beautiful Beaches
I haven't been all over the world yet, but I do believe that Seychelles offers the prettiest beaches that exists on Earth.
The Seychelles in general feels like a "heaven on Earth" place. But it's beaches… wow, I can't even say which one is prettier, it's like choosing who I love more – mom or dad!
Here are my TOP 3 favorite beaches:
Also, one of my favorite things about Seychelles is that all beaches are public.
So for example, if you want to visit the Four Seasons Hotel beach, but you are not a guest in that hotel, you can still visit the beach (same things goes to the Port Launay North Beach).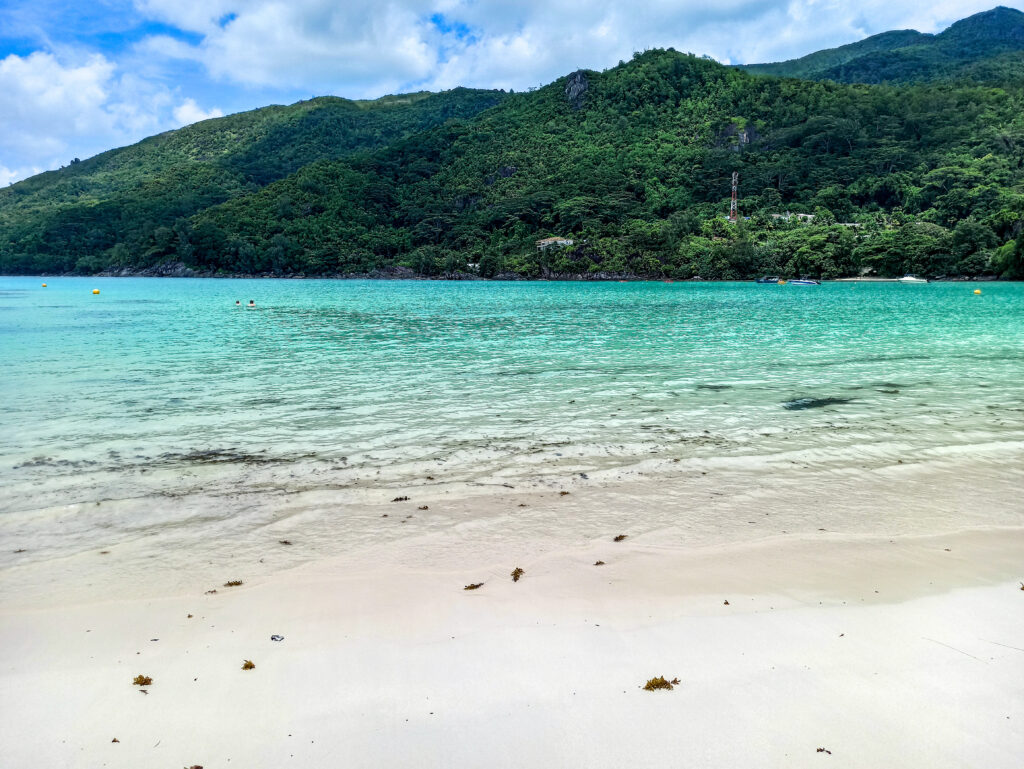 3. Go on a Hike
There are a lot of beautiful trails and viewpoints in the islands (especially in Mahe).
We went on the Morne Blance Trail that was a 5 minutes drive away from the Constance Ephelia Resort.
There are beautiful view points, the Morne Blance Trail is definitely one of the prettiest I've seen.
5. Visit Beau Vallon
Beau Vallon is one of the most "living" areas in Mahe. Some of the famous luxury hotels (Savoy Hotel and The H Resort) are there too, but the best part of Beau Vallon is it's beautiful beach!
If you are not staying in the area, I recommend going there on a day trip in a Wednesday.
Why? Because at the evening there is a local street market that opens at 18:00 pm, and offers delicious local food, souvenires, handmade crafts and art that is made by locals, good music, and more!
** If you are reading this in 2020-2021, the local market isn't working during these Covid days. It will open again when things in the world will get back to normal **
6. Go on a Day Trip in Victoria
Victoria is the Seychelles capital city. Even though it's the largest city in the Seychelles, it's one of the smallest capital cities in the world!
If you are renting a car, you can do a self-guided tour of the city (4 hours is enough to cover the city and it's attractions).
But if you are not renting a car, I recommend going on a guided tour with a local taxi driver!
We went on a tour of the city with Idris, our taxi driver, and had such a fun experience!
I really recommend going on a tour with him because he will take you to unique places (like the viewpoint in the picture below, that only locals know about, and not all locals will know.
He is the only taxi driver that goes there), and will take you on the tour anywhere you want, and will add some recommendations of his own!
He is a vey kind, nice, and interesting man. We had the best conversations with him!
Here's his phone number: Idris – +248 2 778 223
7. Go on a Beach-To-Beach Day Trip!
This is a very fun day trip you can do in Mahe, Praslin and La Digue. Like I told you before, there are beautiful beaches all over Seychelles, and the beaches just get prettier and prettier.
If you are going on a beach-to-beach day trip in Seychelles, you can also rent a car or go with a taxi driver for the day.
Idris, the taxi driver I talked about earlier does these day trips as well and he is highly recommended!
I highly recommend doing this kind of day trip in La Digue (if you are going there for more than a day), because you can't rent a car (because there are no private cars in the island).
You rent a bike, and ride through the beautiful, breathtaking beaches that are on the island!
8. Visit Vallée de Mai in Praslin
Vallée de Mai is a famous nature park in Praslin. The park is mainly a nature reserve for the famous Coco de Mer coconut (which is one of Seychelles main symbols).
The Coco de Mer grows on the Lodicea Maldivica tree (which is part of the plam trees family), and has the largest seeds of any plant in the world! (it's size is double nut seed).
In the park you can also find interesting wildlife such as rare Seychelles black parrot, mammals, crustaceans, snails, and reptiles.
9. Go Snorkelig/Scuba Diving!
One of the best things to do in Seychelles is snorkeling or scuba diving! Seychelles has the prettiest fish and ocean wild life!
Under the water you can find unique fish, octopus, turtles, stone fishes, and so much more!
Here are the best snorkeling spots in Seychelles:
Anse Lazio, Praslin Island
Port Launay North Beach, Mahe
Anse Source d'Argent, La Digue Island
Bird Island
Beau Vallon Beach, Mahe
10. Visit World's Most Beautiful Beach!
The Anse Source d'Argent was chosen multiple times to be the world's most beautiful beach. And I totally understand why.
It is definitely one of the prettiest and unique beaches I've been to! It's also a snorekling hot spot, but there are a lot of things to do there as well.
You can go on clear kayak boat tour, tan in the sun, swim in the warm crystal clear water, drink and eat a delicious coconut, and more!
And that's it for today! Stay tuned for a lot of exciting Seychelles content!
I am so excited to share with you my travel tips and recommendations for this beautiful destination!
For more Seychelles content, make sure to follow me on Instagram and on TikTok as well!
MORE SEYCHELLES CONTENT: